Irvine Plumber Champions: Cleaning Sewage Line Blockages with Hydro Jetting Irvine
Have you noticed that your drain is taking long to empty out the shower or bathtub water? Or, your toilet is not flushing out the waste optimally? If this is the case, you need Irvine Plumber Champions hydro jetting service. We are Local to your city. 100% satisfaction guarantee: If you're not happy, we refund your money and you don't pay! All our techs are expertly trained, certified, background checked for hydro jetting Irvine. Call us today!
What is Hydro Jetting?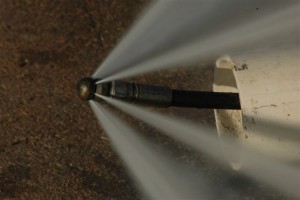 When you have clogged or slow sewage and drainage lines, professional plumbers like Irvine Plumber Champions use a method called hydro jetting to get rid of the blockages and clogs. Hydro jetting process involves sending water at high pressure into the sewage line to clear the blockage and accumulated gunk inside the pipes. Typically, the water is inserted at a pressure of 4000 psi into the sewage lines. This pressure is the most effective in clearing blockages.
Irvine Plumber Champions: The Convenience of Hydro Jetting
When drains clog up, it is best to first ascertain the cause of the blockage. So we use plumbing video camera inspection to determine the cause as well as the location of the issue. In case tree roots have entered the drain, the high pressure hydro jetting should help to break the roots up. However, if the roots are thick and strong, we make use of a snake prior to hydro jetting in Irvine.
Hydro jetting is not the go-to solution if the pipes are broken and damaged. In fact, when pipes are damaged, the high-pressure could end up breaking sections that are already weak. However, hydro jetting in Irvine is the perfect solution for removing build up of scale, silt and sand. It is also extremely effective against removal of hair and other residue build up.
In commercial settings, particularly in food outlets and restaurant, periodic hydro jetting in Irvine helps to remove grease build up and food particles from inside drains and pipes. It can help clear the drain to ensure smooth flow of drainage water.
Irvine Plumber Champions prefers to use hydro jetting since it is eco-friendly approach to cleaning clogged pipes. It does not make use of chemicals, and hence, there is no risk of environmental pollution or groundwater pollution. Through our specialized hydro jetting service in Irvine, we help you reduce your carbon footprint. Emergency plumber.
Contact Us Today!
Hydro jetting in Irvine should be performed by a qualified and training plumbing contractor. It requires skill and expertise that we are proud to inform you that we possess. We make it a point to first perform plumbing video camera inspection before using high-pressure water to flush and clean out the plumbing system. We boast quality, trained and experienced plumbers who have the expertise to use hydro jetting to provide positive results.
Through our hydro jetting expertise in Irvine, you can improve the functioning of older plumbing lines effortlessly. It removes years of build up and also get rid of sand and silt without using chemicals.
Contact Irvine Plumber Champions today to find out more about our hydro jetting service. You can also contact us to schedule an appointment. We even provide emergency plumbing services and our technicians will be at your premises within 60 minutes of scheduling the appointment. Don't let clogged drains and plumbing lines wreak havoc with your life. Call Irvine Plumber Champions today!