Irvine Plumber Champion: Sewer Repair Irvine without Any Hassle
When your Irvine home's sewer line starts giving problem, the mess can turn into a nightmare. Thankfully, you can always rely on Irvine Plumber Champions for efficient and reliable sewer repair Irvine.
We realize that sewers carry the waste from your property and when these lines get damaged, not only will they emit a foul odor, but the fumes that come out can be hazardous to your health. Also, if the sewer line is completely broken, the raw sewage will leak out contaminating the soil and groundwater while causing an unhealthy mess in your property. This is the reason any sewer repair Irvine should be attended to quickly, before things get out of hand. Luckily, you can rely on Irvine Plumber Champions as our skilled and experienced plumbing technicians are available throughout the day and also after business hours to provide prompt and efficient sewer repair service in Irvine and surrounding areas. Phone us now! We are Local to your city. We give honest and upfront pricing with no service fees. All our techs are expertly trained, certified, background checked for your protection.
We Provide Apt Sewer Repair Solutions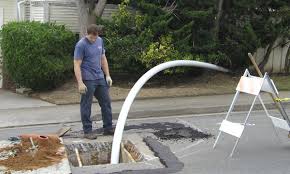 So many different problems can arise in sewer lines, but they all need to be attended to as quickly as possible to ensure you don't face any hardship or expose yourself to health hazards. You can rest easy that Irvine Plumber Champions has the necessary equipment and expertise to handle all kinds of sewer line issues, big and small.
Every often, sewer lines get damaged due to build up of grease or natural shifting of soil. Problems can also arise when tree roots damage the lines or make their way into the lines. This can hinder the proper flow of waste. Irvine Plumber Champions has the technology to find out the precise cause of the sewer line problem and then provide the right solution to rectify the issue.
Whether you are dealing with collapsed or cracked sewer pipe or a blockage is preventing seamless flow, our plumbing specialist will be able to rectify the issue. We undertake trenchless sewer repair work and this ensures your property is not dug up. In fact, since we are experts in this form of sewer repair, our services are highly sought-after.
If our technicians identify that the pipeline requires relining, we use epoxy relining material in the inside of the pipe. This ensures smoother inner walls and also repairs minor cracks and holes. We also use epoxy to seal faulty pipe joints and this stems leaks.
If our plumbers identify a burst pipeline, we will remove the damaged line and install a new, high-quality sewer line within no time.
As you can see, we have a solution for every sewer line issue, and take pride that we are able to fix sewer problems within no time using cutting-edge equipment and technology.
Irvine Plumber Champions: We are the Right Choice for Sewer Repair in Irvine
We boast a team of professional and licensed plumbers who can attend to you round the clock, even after working hours
Irvine Plumber Champions brings years of experience to the table and has a sewer repair solution for bellied pipe, corroded pipes, blockages and anything else that ails your sewer pipeline system
We excel in trenchless sewer repair work, but believe in offering the best possible solution based on the issue
Contact Irvine Plumber Champions today for your sewer repair work. We are a plumbing service in Irvine that you can trust. We believe in customer satisfaction and have superior work ethics. When you use our services, you know you have best plumbing service in Irvine and this is a guarantee of quality sewer repair work.